Globe Chefmate GC512 12″ Manual Gravity Feed Slicer – 1/3 hp
he Globe GC512 12″ manual gravity feed slicer is a tremendous choice for operations that require moderate slicing.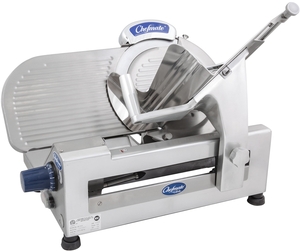 An excellent mid tier addition to small sub shops and other medium volume operations, this slicer is specially designed to handle approximately 6 hours of cutting meat and 4 hours of cutting cheese per day. It can even be used to slice small amounts of cheese! Whether you need sliced product for sandwiches, appetizers, or even pizza, this unit's rugged aluminum base and stainless steel food contact areas combine with a powerful gear-driven 1/3 hp motor and 12″ wide blade to quickly and consistently get the job done right.
Special Pricing Call
(941) 915-4756